Armenia
Armenia is a nation, and former Soviet republic, in the mountainous Caucasus region between Asia and Europe. Among the earliest Christian civilizations, it's defined by religious sites including the Greco-Roman Temple of Garni and 4th-century Etchmiadzin Cathedral, headquarters of the Armenian Church. Khor Virap Monastery is a pilgrimage site near Mount Ararat, a dormant volcano just across the border in Turkey.
Armenia flag
---
Population: 2.977m Capital : Yerevan



Capital: Yerevan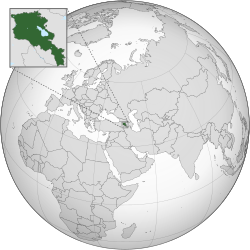 Join the discussion below in the comment box.
Let us know in the comment below.